This post may contain affiliate links. Please read my disclosure for more info.
Are you looking for the best swaddle blankets for your baby? Comforting a newborn baby can be daunting for new parents.
Swaddling is a technique used for centuries to calm babies and help them to sleep. A great swaddle blanket will not only warm and soothe your baby but will provide a safe sleeping environment.
Pin For Later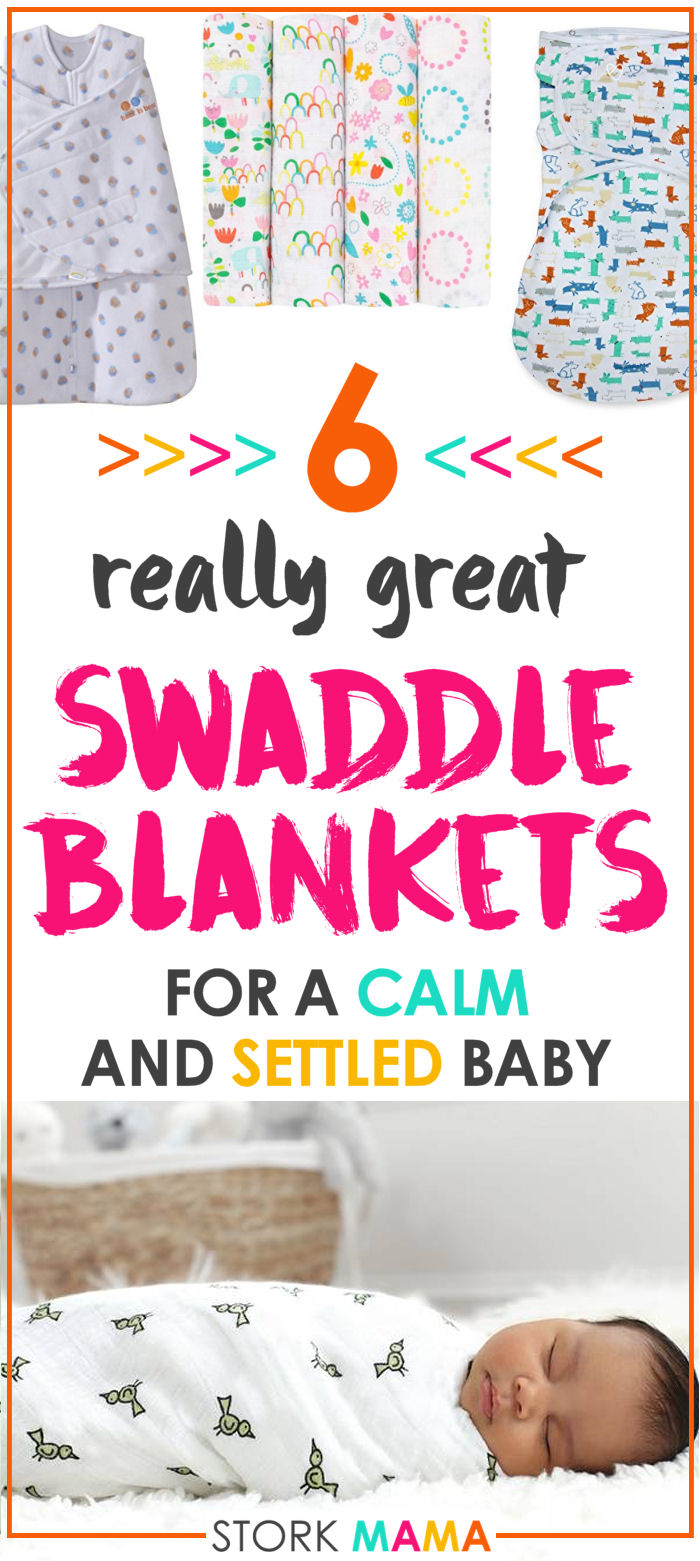 With so much choice, it can be a bit of a nightmare, knowing where to start. We developed this guide to help you know what to look for and what's available out there.
Check out our buying guide to find the best features for you and your baby's needs. First, let's check out our favorite swaddle blankets.
Top 6 Reviews – Best Swaddle Blankets
HALO SleepSack
Pros: Adjustable arms, 22 color options, allows hip flex, cooling fabric, easy diaper change
Cons: Loud velcro, excessive fabric
Our Verdict
The Halo Sleepsack is the bestselling swaddle wrap online. It's addressing design concerns with using swaddlers. The best feature is the ability to choose how you position your baby's arms. You can wrap them tightly, leave them free or place beside your baby's face depending on their preference.
It's made from nice lightweight fabric to keep baby warm but not overheated. Baby's hips can flex and kick to prevent displacement. You can use it as a sleep sack as baby grows. A great choice and comes in 22 different fabric designs and two sizes: newborn and small.
aden + anais Classic Swaddle
Pros: Multi-use, breathable, soft, durable, 15 cute designs
Cons: Requires swaddle technique, expensive
Our Verdict
The classic swaddle by aden + anais is very highly rated by moms. These blankets are made from soft, thin cotton known as muslin. They are large and easy to work with. They are on the pricey side but can use them for burping, nursing or as a stroller cover. Muslin cloths are a must-have for new moms.
You will need to learn the correct swaddle technique with these, as there are no fasteners. We love that they can comfortably snuggle baby, but they not bulky and won't cause overheating. These would be perfect if you live in a hotter climate or your newborn is a summer baby.
Summer Infant SwaddleMe
Pros: easy to use, lightweight, harness attachment, inexpensive
Cons: noisy velcro
Our Verdict
The Summer Infant SwaddleMe is the easiest to use on our list. These swaddle blankets are very affordable at under $25 for a set of two. Simply place baby in the pouch and velcro the sides over. The wrap is really secure for the upper body so your baby won't be able to Houdini wiggle out. The material is a very soft and lightweight cotton to keep baby secure and prevent overheating.
They come in a choice of small, medium or large as well as 17 fabric designs. If you have a carrier with a 5 point harness, there is a slot on the swaddler to attach through and provide extra safety for your baby on the move.
Miracle Blanket Swaddle
Pros: Very secure, lightweight, no fastenings, fits small and large babies
Cons: difficult diaper changes
Our Verdict
If your baby is a fussy wriggler then you need the Miracle Blanket. This swaddle blanket provides a very secure swaddle for your baby, so no matter how hard they try, they won't escape. The design has arm flaps and is wrapped twice so they simply cannot wriggle free.
The material is made from breathable and lightweight cotton, although its bulkier than other designs as you wrap to secure. The lack of fastener makes it a lot quieter to use than those with Velcro, which can startle baby when opening. This swaddle blanket comes in 40 different colors and print designs.
BundleBee Baby Wrap
Pros: supports baby, cushioning, use as a play mat, cute design, durable
Cons: bulky, fastening tie not attached, loose fit
Our Verdict
If you want to keep baby snug without a tight swaddle then check out the BundleBee wrap. Baby is swaddled in the cushioned layer and then kept snug with the tie fastener. It provides enough protection as well as room for baby to move, so we would only recommend his for daytime use when you can supervise baby.
This blanket is like a duvet. However, the polyester filling is breathable and won't cause your baby to overheat. If you have older children, it will provide them with some holding support while keeping baby calm. This is a great option if you live in a colder climate or have a winter baby.
Love To Dream Swaddle Up
Pros: very easy to use, allows hip movement, suitable for preemies, variety of designs
Cons: tight fit, only a few months of usage
Our Verdict
The Love To Dream Swaddle blanket is the best option if your baby loves to sleep with their arms up. This position can help your baby to self soothe and show early signs of hunger. As baby's hands are kept safely inside the blanket, they won't be able to easily scratch their face.
This swaddle blanket it very easy to use as it's a tight fit with a zip close to keep baby snug. The zipper is two way so you can free baby's legs easily to change a diaper during the night. It's also perfect for preemie babies as the smallest size is suitable from 4.5lbs. Sizes range from preemie newborn up to 2.5 years old.
---
Swaddle Blanket Buying Guide
Let's discuss the features that differ between swaddle blankets. The pros and cons will help you to decide what you need from your blanket.
Type
Blanket
This type is a simple receiving blanket with features suitable for swaddling. This type is not shaped, and without fastening, so you need to know how to wrap your baby properly. If you don't know the technique baby can wriggle free easily. Hip displacement is more likely with a blanket style if you wrap your baby too tight. Blankets tend to be more lightweight, prevent overheating and are adjustable to grow with baby and position baby's arms to how they like them.
Wraps
Wrap style swaddles are designed for ease of use. They contour to babies shape and have easy fastening to keep baby secure. Various styles are available for baby's preferred arm position, and most will allow for hip flexion. It's much easier for a baby to overheat in a blanket or for baby to slip under the fabric if you use the wrong size.
Arm Position
Babies tend to use their hands to help soothe themselves. The type you choose will be down to the way your baby prefers to sleep.
Up by Cheeks
Swaddle blankets which position the arms up allow baby to sleep in a natural position. They can still attempt to suck their first to show signs of hunger. In this position, babies can still startle easily and scratch their face unless the wrap covers their hands.
Down by Sides
Babies in this position tend to settle easier and for longer as you prevent their startle reflex. Usually, babies who don't like this position will struggle to break free from the swaddle. Newborns tend to like this position better but will soon begin to want movement as they grow.
Adjustable
A wrap which can adjust to offer baby's arms up, down or to be free is best. You can buy the swaddle before baby arrives so no need to wonder if they will prefer arms up or down. It also helps as your baby grows older when most prefer to have their arms free as they sleep.
Fabric
You want a fabric which will help your baby at the right temperature. That means keeping baby warm without overheating them. Let's look at the most common types of fabric used.
Cotton – Well known for being used for baby items as it's soft, durable and breathable. The biggest drawback of cotton it that it can stain quite easily.
Microfleece – Offers the heating benefits with breath-ability. It's also water resistant and dries easily. We wouldn't recommend using microfleece in hot climates.
Bamboo – A natural fabric similar to cotton. Bamboo is breathable, soft and antibacterial without being bulky. Tends to shrink quicker after a wash.
Polyester Blend – Gives all the benefits of cotton as well as being more durable. The drawback is it's a man-made fiber which you may want to avoid using on your baby.
Fastening
Swaddle wraps usually have some sort of fastening to secure your baby in the fabric. Let's explore how these fabrics affect the blanket.
Velcro – A simple fastening which is very easy to use, especially when dealing with a wriggly baby. The downside to Velcro is that it can be very noise to undo around a sleeping baby. You also need to be careful not to damage other items in the wash.
Ties – The biggest benefit of a tie fasting is adjustability. You can decide how snug you want your baby to be, and this will differ as baby grows. Ties are not so easy to fasten if you have a grumpy, wriggly baby.
Zip – Another easy to use and wash fastening, even better if it's a double zip to allow easy access. The drawback is they aren't adjustable and can be irritating to your baby.
---
Swaddle Blanket Comparison Guide
If you have a few swaddles to choose between, it's best to compare the features. The blankets which score highly in areas important to you will be the best swaddle blanket for you and your baby. Use this list to compare how well each blanket performs.
Ease of use
Consider how easy the swaddle blanket will be to use. If you want convenience, then opt for a swaddle wrap. If you are comfortable with the swaddle technique, then you can choose from either type. Other considerations are how easy it is to use with a crying baby and access to diapers when your baby is asleep.
Durability
You'll be using a swaddle blanket quite often during those first few weeks. It has to withstand daily use and cleaning. Consider how easy and quick it can be cleaned and dried.
Comfort
The swaddle blanket needs to be comfortable for baby to use; otherwise, they won't settle in it. Baby's arm position will play a big part in this as they will have a preference from them being up or down. You also don't want the swaddle to be too loose or too tight for baby, but a snug fit.
Safety
A safe sleep space is vital for your baby's safety. Blankets are a source of harm if misused. A swaddle should allow your baby to keep at a comfortable temperature. Baby should not be able to wriggle underneath any access fabric as they sleep.
Price
There are great swaddle blankets available for all price ranges from budget to luxury. Expect to pay $10-$40 for a swaddle blanket.
How to Swaddle a Newborn
Benefits of Swaddling
Prevents SIDS
Swaddling encourages parents to place your baby on their back to sleep. This is one of the biggest factors for preventing baby deaths from SIDS in the Safe to Sleep Campaign.
Sleep Longer
The tightness of a swaddle makes a baby feel like they are back in your womb. It's a comforting sensation which helps to stabilize their heart rate and keeps them calm. A baby who sleeps longer will allow exhausted parents to get more sleep.
Keep Baby Warm
Babies have poor temperature regulation and can get cold very quickly. A swaddle blanket helps them to maintain their heat by covering all of the body. Too much heat loss can cause large weight loss for your baby, which can know your confidence as a parent or affect a breastfeeding relationship.
Assist Breastfeeding
Newborns babies get their hand everywhere. They will pull and claw around the breasts when you want to feed them, making it difficult for them to latch on properly. A swaddle blanket can give you control over baby's arms until they attach and then remove the blanket. This can give you more confidence to feed your baby and prevent you and baby becoming frustrated during feeds.
Less Crying
Went your baby is swaddled with their hands down you reduce their startle (Moro) reflex. This causes your baby's arms to flail outwards and make them feel vulnerable. Keeping baby wrapped tightly also help them to combat colic and fussiness. You'll experience a lot less stress if your baby cries less.
Fewer Scratches
Newborns usually have long nails, which causes them to scratch their faces. Keeping baby's hands down or covered with a swaddle blanket will prevent this, especially if you have a newborn photo shoot planned.
Disadvantages of Swaddling
Swaddling is an excellent skill to have as a parent to help you calm your baby. If done incorrectly it can pose a few problems for your baby.
Overheating
You should always observe your baby for signs of overheating regardless of whether you swaddle or not. Try to use lightweight breathable fabrics if your house is particularly warm or in a hot climate. Use a thermometer or check the back of baby's neck; it should neither feel hot nor cold.
Hip displacement
The concern is that you wrap your baby too tight for an extended period of time. This can cause poor hip development. If baby's legs are allowed to flex this will not be an issue.
Fit
A good fit can be tricky if you're new to swaddling, which is why most opt for a swaddle wrap. Your baby needs to be wrapped tight enough to prevent the covers unwrapping or covering baby's face. They should also not be wrapped so tight that they struggle to breathe.
Prevents feed cues
Restricting movement can prevent you from picking up on early hunger signs such as first sucking, stretching or arm movements. Be aware of other early cues such as lip sucking, head turning, and opening and closing the mouth.
---
Swaddling Safety
The American Academy of Pediatrics has made these recommendation for safe swaddling practice:
Baby Always On Back
Your baby should always be placed on their back to sleep as it reduces the risk of SIDS by 50%. Never place a baby on their stomach to sleep, not even for a nap, it increases their risk of SIDS. You baby should have plenty of tummy time during the day to prevent them from developing flat head.
Correct Technique
If you choose to use a receiving blanket or muslin square to swaddle ensure you have the correct technique. Have a health care professional demonstrates it to you or ask them to assess your technique. The fit should be neither too tight nor too loose, but snug enough to keep baby secure.
Protect Hips
Babies hips should always be flexed and allow for movement. This will encourage health hip development and prevent long term physical damage.
Monitor Temperature
Baby should have no more than one layer of clothing on under their blanket. The room temperature should be comfortable for you as an adult.
---
Swaddling FAQ
When should I start swaddling?
You can begin to swaddle your baby on the day they are born. We recommend you get as much skin to skin contact as possible at first to improve bonding and promote breastfeeding. It's a good time to ask your nurse or midwife to demonstrate the swaddle technique for you.
How often should I swaddle?
A newborn can be swaddled for 12-20 hours per day. They should be given time for skin to skin contact and to freely move. As your baby grows, you should reduce the amount of time you spend swaddling in the day.
When should I stop swaddling?
Around 14 weeks (3-4 months) your baby will learn to roll over. If your baby is attempting to roll, you should stop swaddling. If you have an adjustable arm swaddle blanket you can switch to baby sleeping with their arms free from the blanket.
Am swaddling too tight?
A swaddle should be tight enough to stop the blanket becoming loose. A swaddle should not make it difficult for your baby to breathe. You should be able to slip your fingers easily under the blanket and along baby's chest. The hips and legs should be free to open or move.
Help! Swaddling isn't settling my baby.
First, make sure your baby is not wrapped too loose or too tight making them uncomfortable or feeling unsafe. If you feel the fit is snug enough, you can try changing baby's arm position. You can try any of these arm positions:
Side – Arms are straight down the body by baby's sides. This is the most traditional swaddle position you will see in tutorials.
Chest – With the arms bend at the elbow baby's arms cross over their chest. This position is often adopted by babies in the womb and will feel comforting to them.
Face – Some babies prefer their arms upright. Bend the arms ar the elbow and touch together on the chest. Baby's fists should rest on their chin or cheeks when swaddled. This helps them suckle their finger to sooth themselves.
Half Swaddle – Position one arm in any of the three positions above and keep the other arm free. This is a good swaddle weaning position as baby begins to want more space to move when sleeping.