This post may contain affiliate links. Please read my disclosure for more info.
If you plan to store your breast milk for extended period of time its recommend you use storage bags designed for storing breast milk. In this article you'll find out more about using breast milk storage bags, why you should use them, a buying guide and which ones are the best.
Right now we're going to jump right in and explore the pro and cons of the 9 most popular breast milk storage bags on the market.
Pin For Later
Top 9 Best Breast Milk Storage Bags Reviewed
1. Lansinoh Breastmilk Storage Bags
Hands down the most popular storage bags are the Lansinoh Breastmilk Bags. You can get 100 bags for around $15-$20 holding a max volume of 6oz per bag. These bags score really high for performance, with a double seal to making sure none of your precious breast milk will leak. They lay really flat which is a great space saving feature and helps the milk to freeze at an even thickness, ensuring they thaw quickly.
Pros: Double Zip lock sealed, Easy to label, easy to pour, pre sterilized, great price, recyclable
Cons: Can't be attached directly to breast pump, Leak easy if not thawed flat, don't ship well.
2. NUK Seal N Go Breast Milk Bags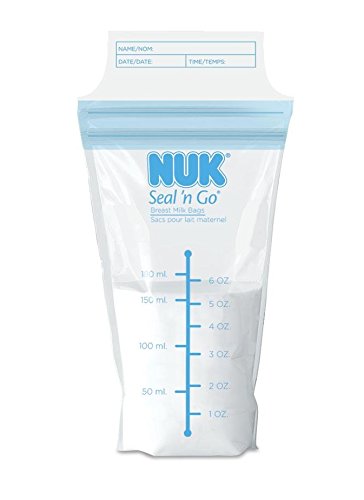 If durability is high priority for you then then check out these NUK Seal N Go Bags. These bags are thicker than the Lansinoh and hold the stated 6oz with ease. The double zipper lock and strong seams ensure leaks happen rarely with these bags. Expect to pay just under $20 for a 100 count – these are a little more expensive than the Lansinoh bags but cheaper than he Medela.
Pros: Double zipper lock, strong seams, thick material, self-standing, sterilized
Cons: difficult to label, bulky if stored upright, don't attach directly to pump
3. Kiinde Twist Pouches
The Twist Pouches are part of the Kiinde breast milk system. The system is designed to pump directly into the bags and feed baby all in one. Even if you don't use the Kiinde system the bags can still be used to pump breast milk into the bag directly from all pumps. You would need to buy an extra adapter for your pump but these are fairly inexpensive at around $7. We love the twist top to these bags as it makes them the most leak proof option of all the bags on this list. We think these whole system is a great option for frequent pumpers, such as working moms.
Pros: Pump directly into bottle, secure screw cap, hygienic, easy to pour, convenient
Cons: measurements are sometime off
4. Dr. Brown's Breastmilk Storage Bags
For ease of use check out the Dr Browns milk storage bags. A basic design with a double zip and thick material, double lock and super easy to pour. These bags lay flat in the freezer, making them easy to store and save a lot of space storing up to 6oz of milk in each bag. They cost a bit more to by in bulk a they come in 25 and 50 counts rather than larger 100 counts packs.
Pros: Thick material, double zipper, easy to label, durable, leak proof flat or upright, pre-sterilized
Cons: expensive to buy in bulk, don't attach to pump, measurements can sometime be off
5. Medela Pump and Save Breast Milk Bags
Are you using a Medela breast? Then check out the Medela pump and save bags. The biggest feature of these bags are that you can pump directly into the bags from the pump. They save you needing to wash extra bottles and make the whole process more hygienic. For a 100 count of these bags you'll pay between $20-30, buy online for the best deals. We don't rate these storage bags for thawing performance but they are convenient and are great for deep freezer storage.
Pros: Pump directly into the bag, Easy to label, stand up bottom, double walled for long term storage
Cons: Expensive, tendency to leak, only hold 5oz, single seal
6. Philips AVENT Breast Milk Storage Bags
If you are on a budget then check out the Philips Avent storage bags. We recommend these particularly if you will only be storing small volumes of milk for a short period of time. Another strong performing bag with a double zipper and reinforced seam to prevent leaks. The bags each hold 6oz of breast milk and you'll pay under $10 for a 50 count.
Pros: Temper proof packaging, self-standing, affordable, double zipper, durable, easy to label
Cons: freezer burn if milk stored too long, difficult to reopen
7. Honeysuckle Breast Pump Bags
Another option for Medela pump users are the Honeysuckle breast pump bags, which you can pump directly into. They are an eco-friendly option as the bags are biodegradable, and will make you feel a bit better than adding more plastic to landfill. The bags are sturdy, albeit quite thin, with really accurate measurements. The bags hold 6oz of breast milk, and expect to pay just under $10 for a count of 50, a lot cheaper than the Medela branded bags.
Pros: Use with pump, biodegradable, Easy to label, double zippered, tamper proof
Cons: difficult to pour
8. Ameda Store N Pour Breast Milk Storage Bags
The pouring spout design of the Ameda Store and Pour is the highlight of these bags. It makes it super easy to transfer the milk from the bag to the bottle after thawing. That being said we've never really found many bags which don't pour well. The bags are durable, but they are smaller than other brands holding only 5oz of milk. You can decant from a bottle or buy an additional starter kit to pump directly from your pump in to the bags. At around $13 for a 40 count pack, these bags are a budget friendly option.
Pros: Easy Pouring, zipper seal, pump direct with additional adapter, easy to label
Cons: measurements inaccurate, bulky to store flat
9. NeneSupply Breastmilk Storage Bags
For the thickest breast milk bags on the market check out the Nenesupply bags. The bags are perfect especially you need to travel with a full bag. They are an average price at around $15 for 40 bags storing up to 6oz per bag.
Pros: Very thick, great for transporting, odor proof, easy pour spout
Cons: one seal, bulky when storing
Breast Milk Storage Bag Basics
Buying Guide
When you're looking for breast milk bags you're going to want the one which meet your needs. Some bags will perform better than others with certain features. These are the features you should consider before you buy milk storage bags.
Price
This is mostly dependent on how many bags you buy at one time. Usually buying in bulk will save money, however some brands are quite costly due to lower counts per pack. The best deals are usually found online if you can get free shipping.
Durability
The thickness of the bag will determine how well the bags perform in storage. This is particularly important if you are looking to deep freeze or travel with full storage bags. Thick materials will prevent freezer urn or any damage to the bags which can cause leaks.
Collection
There are two option when filling you storage bags, pump directly in to the bag or pump into a bottle and decant in the bags. Some bags will allow you to attach the bag with a handle, opening or adapter. You can try a makeshift attachment with tape if you prefer not the spend time cleaning more bottle than necessary when pumping.
Size
Check how much the breast milk bags hold. Some bags are smaller at around 4oz and other hold around 6oz. We recommend you don't fill the bag over the stated measurement otherwise it is more likely to leak.
Seal
If you're going to cry over spilled milk then you'll want a bag with a double zipper. A sipper lock style seal is most common but you can get secure screw cap types. We recommend you avoid tie or tag seals are they are prone to leaks and tend to be made from thinner material which is prone to leaks.
Ease of use
Remember your bag will need to be easy to store so you want a thin space saving bag. For thawing you'll want a bag with thick seams which can accommodate expansion and won't burst easily. A pouring spout makes it easy to transfer the milk from the bag to a feeding bottle. Labelling is also important so make sure the bags are easy to write on.
Advantages of Breast Milk Storage Bags
Convenience – store breast milk straight from a pump
Long term storage – suitable for freezer use
Hygienic – Pre-sterilized bags are available or pump directly to prevent further contamination
Recyclable – most bags are made from recyclable plastics
Disadvantages of Breast Milk Storage Bags
Made from plastic – You may prefer to avoid using plastic products for your baby, as plastics can hold onto nutrient from your breast milk.
Single use – it seems wasteful to throw away these bags after each use.
How to use breast milk storage bags
Breast milk storage bags will come with instructions for use with each pack, but basic instruction are similar for each bag.
1. Use a waterproof pen to label the bag before filling.
2. Remove the sterilizer seal open the bag.
3. Place the bag around the breast pump shield and collect the breast milk or decant expressed breast milk from another bottle into the bag.
4. Do not fill the bag past the maximum volume.
5. Push out any air from the remaining empty space in the bag.
6. Seal the zipper securely.
7. If storing in the fridge stand upright. If storing in a freezer place on a sheet of paper towel (to prevent it sticking to the surfaced or other items) and lie flat.
8. To thaw remove from the freezer and thaw upright in the fridge or in a bowl of warmed water.
9. Decant the thawed milk into the feeding bottle and ensure the bag is at a sturdy angle to prevent spills.
10. Discard of the used storage bag. It is not recommended to re-sue breast milk storage bags.